BRAT STOP 12304 75TH STREET – KENOSHA, WI
January 14 @ 9:00 am

-

1:00 pm

$30.00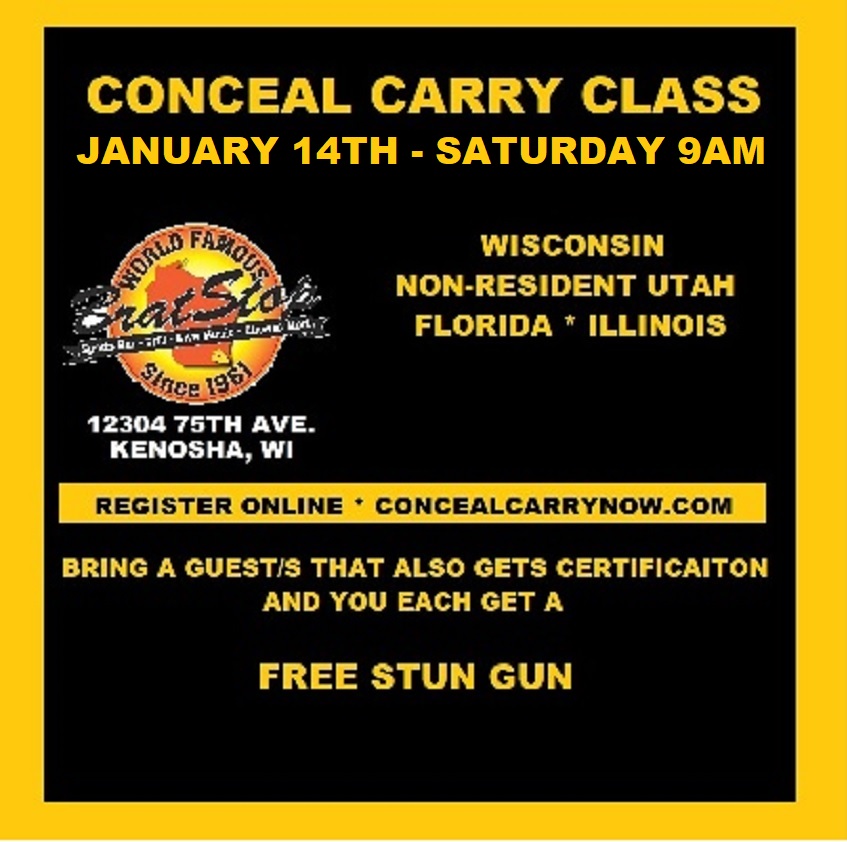 A $30 NON-REFUNDABLE DEPOSIT IS REQUIRED WHEN REGISTERING FOR A CLASS. THIS DEPOSIT WILL BE SUBTRACTED FROM YOUR COST OF CERTIFICATION AT THE CLASS. WE PROMOTE OUR CLASSES BY GIVING YOU AND YOUR GUEST A FREE STUN GUN.  WE HOPE THAT WITH YOUR HELP THIS GIVES US AT LEAST A MINIMUM OF 10 STUDENTS AND DECREASES THE POSSIBLITY OF US HAVING TO CANCEL A CLASS.   HAVE A FRIEND OR FAMILY MEMBER REGISTER AND RECEIVE CERTIFICATION AND FOR DOING SO YOU EACH GET A

FREE STUN GUN.  
PLEASE DO NOT WAIT UNTIL THE LAST MINUTE TO REGISTER AS IT IS HARD TO GET AN ACCURATE HEAD COUNT.
RECEIVE YOUR CONCEAL CARRY CERTIFICATION FOR WISCONSIN, NON-RESIDENT UTAH AND/OR FLORIDA.
PHOTO ID IS REQUIRED WHEN ATTENDING THE CLASS. NO FIREARMS ARE REQUIRED. 
OUR INSTRUCTOR TEACHES IN ACCORDANCE TO THE UTAH CURRICULUM WHICH ENABLES STUDENTS TO OBTAIN CERTIFICATION FOR WISCONSIN, NON-RESIDENT UTAH AND FLORIDA AT THE CLASS.   IT IS THE CHOICE OF THE STUDENT WHICH CERTIFICATION/S THEY WISH TO RECEIVE.  FEES ARE COLLECTED AT THE CLASS FOR CERTIFICATION/S IN THE FORM OF CASH, CHECK OR CARD.
EACH CERTIFICATION IS $100.00.
FINGERPRINT AND PHOTO FEE IS $25. WHICH IS A REQUIREMENT OF THE NON-RESIDENT UTAH. 
BRING A GUEST/S TO THE CLASS THAT ALSO GETS CERTIFICATION AND YOU ALL RECEIVE A**FREE  STUN GUN** WE APPRECIATE YOU PARTICIPATING IN THIS OFFER SO THAT WE HAVE A MINIMUM OF 12 STUDENTS.  
THE WISCONSIN CERTIFICATION IS FREE TO VETERANS WHEN YOU OBTAIN THE NON-RESIDENT UTAH OR FLORIDA OR IF YOU BRING A GUEST THAT ALSO RECEIVES CERTIFICATION.
THE CLASS LASTS 4 HOURS.
CASH, CHECK, OR CARD FOR PAYMENT
YOU WILL RECEIVE AN EMAIL REGARDING ANY TIME CHANGES.  PLEASE CHECK YOUR SPAM
IF YOU HAVE FURTHER QUESTIONS PLEASE CONTACT SUE AT 414-333-4500
WE ALSO HAVE SEVERAL GUN SHOWS IN THE AREA WHICH ARE LISTED ON OUR WEBSITE.  IF YOU ARE LOOKING FOR ASSISTANCE WITH PURCHASING A FIREARM YOU CAN CONTACT DUSTIN AT (262)457-1776
Related Events